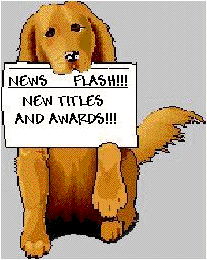 May 28, 2002
Adam and Ringer completed Ringer's championship at the Laramie Kennel Club show on Memorial Day. Ringer is now known as:
CH JEN'NDI'S RINGSIDE KID V ADAM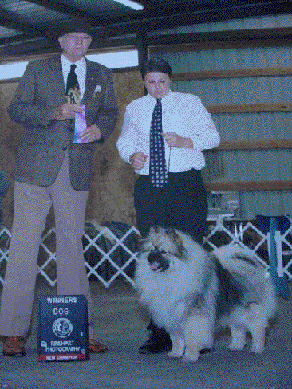 October 22, 2002
Tess competed in her first ever obedience trials and wow was it fun! At the Pikes Peak Obedience Trial in Colorado Springs, CO she qualified receiving two of her legs towards her AKC Companion Dog title although it was iffy when she decided it would be fun to bounce beside me during the off-lead heel exercise. I am extra proud of her because she showed like it was old hat. The ring stewards told me they just loved her attitude. Next it was on to Rapid City, SD for the All Breed Show and Obedience Trials to see if that third leg was going to happen. And happen it did!!! Wow a C.D. title in three straight shows!!! We competed the next day for that one extra leg and Tess not only qualified but received a fourth place out of twelve qualifiers. I'm extremely proud of this once abused little red rescue.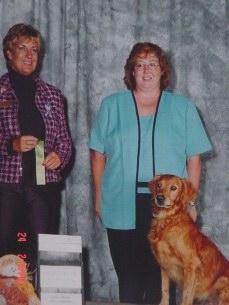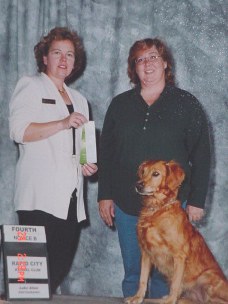 April 2005
Tess competed in her first Rally event and walked away with two legs towards her Rally Novice Title and on the second day placed 4th.
Romeo also competed in his first Rally event and earned two legs towards his Rally Novice Title.
June 2005
At the Mile High Golden Retriever Club's Specialty Tess earned her third leg and a Rally Novice Title.
At the same event Romeo also earned his third leg and his Rally Novice Title. His first title...what an accomplishment!!!
October 2005
Tess competed for her title in the Rally Advanced B class in Rapid City and earned her RA title in three days!!! What a girl!!! All at the young- at- heart age of 11 1/2 years!!!