BARON!!!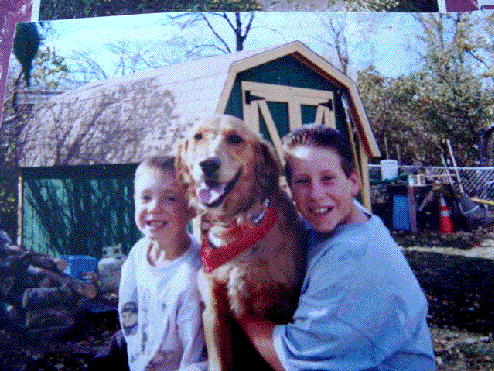 On October 24, 2000 our family was blessed with a golden dream come true!! Baron came into our lives as a rescue from Metro Animal Shelter!
The only thing my oldest son, Philip, wanted for his 10th birthday was a Golden Retriever all of his own. So after researching how much a dog would cost him by talking to individuals at Metro Animal Shelter, the Golden Retriever Rescue of Wyoming and the Casper Humane Society, Philip started saving every penny he could earn. Whenever a golden retriever would be featured on a commercial or television shows my son would exclaim with delight and dream of having his own. And so the weeks went by and the pennies began to grow. Meanwhile . . .
I am blessed to work with Athena. One day she tells me her husband is working at Metro Animal Shelter and he had informed her that a golden had been brought in. She suggested I go and check it out. I have to be honest and say I really didn't know if I should. I just knew I would get there, fall in love with him, and build up my hopes only to have the owners show up and claim him. I mean I would. Wouldn't you? I can't imagine leaving my golden at Metro!!
The next day I had some extra time on my hands so I thought I would stop by Metro believing in my heart that the golden was probably already gone home with his owners. But there he was! His name was Baron. He had just turned one years old, was current on his shots, had already been neutered, was wearing his tags and Metro knew who his owners were!! When I checked in the office they informed me they had tried contacting his owners but their phone was disconnected. Metro had picked Baron up wandering the streets. One of the officers said he had driven by Baron's house and it appeared to be deserted.
I did just what I knew I would do! I fell in love! Metro Animal Shelter keeps all dogs for a week before they put them up for sale. At the end of two weeks the dogs and cats who were not placed are euthanized! I filled out all of the adoption papers and faithfully every day I went up and talked to Baron, reassuring myself and him that soon he would get to go home! Plus he loved those doggy treats I snuck him!! The day before Baron would be eligible for adoption I discovered 6 other individuals had completed the paperwork for him!! Even though I was the first individual to be approved for adopting Baron I was informed that whomever showed up first the next day would be one who got him!!
Needless to say I took a day off work and was sitting outside of Metro Animal Shelter at 7:30 a.m. waiting for them to open at 11:00 a.m.! I had already arranged for Baron to have a check up and a bath at my Vet's at 12:00 p.m.! I was bound and determined to take him home! The best part of this whole story is the day I rescued Baron was also my son's 10th birthday!! My boy got his birthday wish, Baron got his forever home and everyone of us got a Golden Blessing!!