Oh those boys...
Memories Quest For Gold RN (aka 'Romeo')
We have had Romeo since he was 10 weeks old. He comes from Pam Brown and Parab Golden Retrievers in Washington. Thanks Pam for letting us have this wonderful boy!!! Romeo is such a joy!! He has a true golden temperament and is always willing to please, loves and is gentle around children, and likes all the other animals he meets. Romeo's favorite toy is a soccer ball. Romeo has just started training for the obedience ring (he had to mature mentally), and we will probably try our hand/paw at agility too.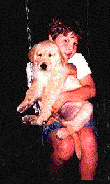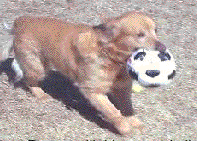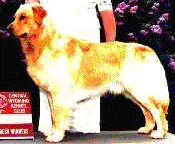 CH Jen 'N Di's Ringside Kid V Adam (aka 'Ringer')
We brought Ringer home from his breeder, Diane Wright (Jen N' Di's Keeshonden). A Keeshond's temperament is very different yet similar to a Golden Retriever's. They are very active, tend to love children and people in general, and want to be where their people are. Adam has trained Ringer for everything they are competing in. Adam finished Ringer's AKC Championship Memorial Day at the Laramie Kennel Club Shows. He and Adam will be competing in obedience and agility very soon.