Rescues who have made it to their Forever Homes with the Canine Underground Railroad.
CHELSEA'S ADVENTURE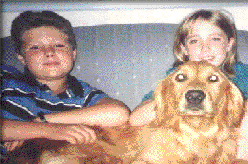 Chelsea is a sweet medium gold female that I rescued from a family that didn't want her anymore. She was approximately two years old and had already had one litter. When I got to the home of the people that owned her I found she was tied to the clothesline pole with about two foot of rope. They told me they had to keep shortening her rope because she was digging holes. The people signed the Surrender Form and I took Chelsea with me.
First thing was a vet check and to have this sweet girl spayed so she wouldn't have any more puppies. She checked out beautifully and was ready to live at our house until a suitable home could be found.
I was telling a friend, Judy M., about Chelsea and she said her cousin had just lost their Keeshond and was wondering if Chelsea would be available. She told me they had a large backyard, but best of all was that they work shift work so someone would always be home with Chelsea. The drawback was that I had to get Chelsea from Casper, WY to Springfield, IL!!
Thanks to a Golden Retriever e-mail list called G@H and a wonderful thing called a CUR run Chelsea was about to start out on a big adventure!! On Saturday, September 12, 1998 Chelsea and I started from Casper, WY and drove to Cheyenne, WY. A wonderful family picked her up in Cheyenne and drove her to Fort Collins, CO. There a lovely lady picked up Chelsea and took her to Denver. Jim, who doesn't even own a dog, took her all the way to Hays, KS. About a 12 hour round trip!!! What a great person. Trish picked her up from Jim and Chelsea spent the night in Hays. The next morning Trish met up with Kate in Salina and Kate drove on to Columbia. In Columbia Kate gave her over to Kim and Kim took her to St. Louis. Cheryl picked her up in St. Louis and took her the rest of the way to Springfield and Chelsea's forever home. One common thread kept coming back to us as each driver reported in. Chelsea was a love sponge who craves attention, and her favorite riding position was shotgun with her head on your lap.
I get regular updates on Chelsea and she is doing very well in her new home.
Montana from the Big Sky State
September 21-23, 2001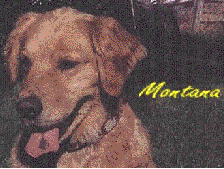 Montana's CUR run was a little different because I was a driver instead of the rescuer. The first leg was Missoula, MT to Whitehall with Karin. Leg 2 was Whitehall to Billings with Bernice. Leg 3 was Billings to Casper with Cynthia. Leg 4 was Casper to Cheyenne with me and my good friend Leslie S. Leg 5 was Cheyenne to Ft. Collins with Joann. Montana's final Leg was Ft. Collins to HOME! with his forever people Rhiannon and Bruce.
Montana's CUR run was bittersweet for me because my mom was in the hospital ill with cancer. Mom was very proud of my work with rescue and my dogs. I believe she was there with Leslie and me taking Montana to his forever home.
Montana update- 5/13/02
Hello everyone! Hope you're all having a wonderful Spring. We all are. Tanna
is doing wonderfully - So happy (his personality seems to come out more and
more the longer we have him). He is still going to camp once a week (Camp
Orlando AKA the home of our friends Tony and Tasha and their two goldens
Cooper and Rusty). And we still go on two walks a day. A short one in the
a.m. and a run in the p.m. – he is becoming a wonder off leash. In fact, I
only use it if we are near roads – he stays within 5 feet of me unless I
give him the "go play" command. The runs are at the park by our house, where
many people take their dogs to play off leash…he has many friends and gets
so very excited when we go out the door and head towards the park (spinning
in circles, it is so cute). Each weekend we go to the "Dog Park" –
Chatfield State Park has an area where dogs are allowed off leash. There are
three ponds to swim in and a creek and a river. Lately Tanna's grandma has
been taking him on Saturdays with Utah (my other golden) and Casey
(Australian Shepard/border collie mix). He LOVES to go with grandma and the
boys.
This weekend we spent Saturday in the Mountains at my dad's house – he did
wonderfully and stayed close all day. I haven't started his formal training
yet, still planning on putting it off until fall, but we work with him
everyday and he is so smart that I know it will not be hard at all. Two
weeks ago Bruce taught him to go down the slide at the park (the enclosed
tube slide). I didn't believe Bruce when he told me that Tanna liked it, I
thought he was just going down the slide because Bruce told him to and he is
eager to please…boy was I wrong. He slides down, then runs back around,
climbs up and goes down again, and again and again. You have to call him
sternly to get him to come to you! My Tanna-bear – a playground junky. He
won't however go down the regular metal slide…maybe it feels different on
his feet.
Our next great adventure will be camping – we are already looking for the
perfect (washable) camp bed for Tanna. I am hoping to get in one weekend of
camping before the wedding…we will see (only 32 days left). I wish I had
pictures to send (I do have about a million – just no digital ones that you
all haven't seen) – but if you would like some I can mail them too you. Just
let me know your addresses.
And once again – thank you all for helping to bring me my baby. I can't tell
you how much I cherish him and how grateful I am that there were so many
people who wanted to help him get home.