Dedicated To Those Who Wait At The Bridge
This page has been the hardest to complete. Every time I read it I remember just how much I miss each and every one of my heart dogs.
Bud
Bud and Bruiser were litter mates. They were the only two to survive out of a litter of three. Their mom, a golden retriever named Gladrielle, came to live with us and less than one week later, on August 16, 1985, gave birth. The people she came from had no idea she was pregnant. (Or, at least, that's what they said) Bud and Bruiser were supposed to be placed into new homes just as soon as I thought they were ready. Strangely enough they were never ready!!! Bud did weight pulling for awhile and really enjoyed it. His top weight he pulled was 900 pounds. Bud passed away in his sleep on April 4, 1997.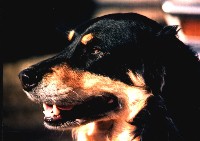 Belle Of The Evening Mist, C.D.
Belle was a real sweetheart!! She could no longer live with the older couple that owned her so she came to our home. Belle was 4 years old when she came here and as wild as a March hare!!! Within seconds of being introduced to my son, then 3, she had de-stocking capped him and de-mittened him. Being a typical golden she settled in quickly. Belle and I did obedience and she earned her C.D. We also competed on a team with our friends. It was while we were training for Open I noticed something wrong with her eyes. After an exam it was confirmed she was going blind. Belle retired from the obedience ring in June 1996. She passed away from liver failure on April 9, 1997, only 5 days after Bud. My daughter, who was 10, said the sweetest thing when I told her of Belle's passing. She said, "Belle went because she knew Bud would be lonely and she is keeping him company."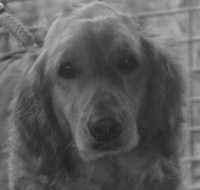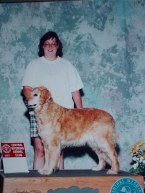 Bruiser, MB-CD
Bruiser got his name for exactly what it sounds like. He was a bruiser. When he nursed he pushed his brothers out of the way to get to the teat he wanted. He adored Bud and would clean his brother's face until it was soaking wet. After Bud passed away Bruiser never seemed to be as happy. I think he missed him as much as we did. Bruiser was registered with the Mixed Breed Dog Club of America and earned his C.D. title. He loved obedience and consistently scored in the 190's. Bruiser was diagnosed with Hemangiosarcom in December 1998 and he passed in his sleep on January 3, 1999.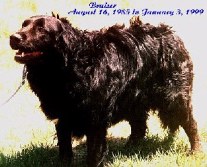 Memories Quincy To The Rescue, CGC
He came to me in the summer 1994. His previous owners were going to put him to sleep simply because they didn't want him any longer. Quincy was a quiet and reserved older gentleman. He lived his days being pampered like the king we thought he was. He suffered from Laryngeal Paralysis, but due to his age surgery wasn't an option. Quincy was diagnosed on November 24, 1999 as having Osteosarcoma in his rear leg and passed quietly to the bridge on February 15, 2000. We estimated his age at somewhere around 13 years when he died.

Sassy
Sassy was a joy!!! She came to live with us because her owner had back problems and was unable to care for her any longer. Sassy and my son 'connected' right away and although she was suppose to be up for adoption my son convinced me to allow him to train her. What's a mom to do? Since she was raised around cats and domestic bunnies she was great with all other animals. She knew basic obedience and spoke on command. Sassy was a typical Golden Retriever. She loved water!!! When my son was fishing in the local streams and ponds you could always find Sassy close by trying to convince my son he should throw the stick/ball/bumper one more time. Sassy had emergency surgery to remover her spleen on Memorial Day 2006. She was diagnosed with Hemangiosarcom and we lost her the morning of July 21, 2006.